Loreto College played its part in helping celebrate International Women's Day on March 8th.  The worldwide event formed part of Women's History Month and this year focused heavily on a strong call-to-action to press forward and progress gender parity. There was and remains a strong call to #PressforProgress motivating and uniting friends, colleagues and whole communities to think, act and be gender inclusive.
Events in Loreto College were organised by Ms. Dolan and the Development Education Team.  The Ember Team helped people to get into the spirit by face painting the IWD2018 logo on student's faces and hands.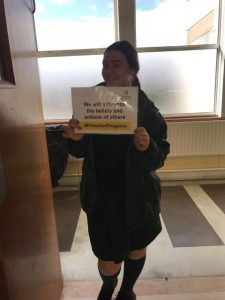 Aisling Lennon of AidLink visited our school and spoke to 2nd year students all about the issues of gender equality, education and the role of women.  Aisling also informed the students of how International Women's Day began and made reference to our sister school in Loreto Rumbek, South Sudan where former Chaplain of our school, Sr. Orla Treacy is principal.
Presentations on great women in history and fearless women from around the world inspired students and there was also a fun "Wonder Women" quiz, which you can try below. (Download the file to get the full benefit, answers and all).