Our Camogie, Basketball and Soccer teams are well established here in Loreto Crumlin, but we also like to take part in other sports which may not necessarily form a regular part of our Sports Calendar.
In the past, Crumlin had a proud hockey team, and our new P.E. teacher, Ms. Doyle is eager to get it back up and running again.  Just prior to the Hallowe'en mid term, our first years took part in a Loreto tournament in which they narrowly lost out in the Bronze medal match.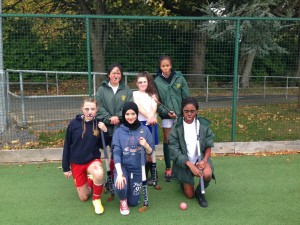 In November, the annual Loreto Swimming Gala took place in the National Aquatic Centre.  Loreto Crumlin was represented by Kirsten Smith, Kate Nelson and Laura Rooney-Saunders.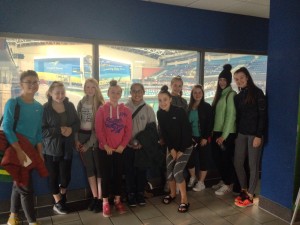 Liberties Saints Rugby Club obliged us by providing some coaching to some eager First Year Students in early December.  The girls had great fun playing Tag Rugby on our all-weather Astrotruf and the physical activity kept them warm in the chilly conditions.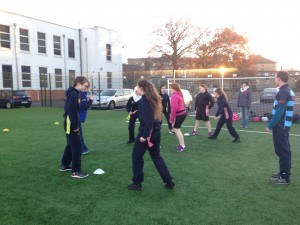 Our Second Years also represented the school proudly when they participated in the Loreto Spikeball tournament in Loreto Balbriggan.  Spikeball is a variation on Volleyball; teamwork and communication are key to success.  As you can see below, our 2nd years certainly bonded as a team.