Wednesday, October 11th was the date for our Special Awards Ceremony 2017.  At this annual event we celebrate the academic achievements of those students who excel in the Junior and Leaving Certificate state exams.
The guest speaker at the event this year was Dove Curpen of the class of 2015.  Dove is currently in the second year of a law degree in Trinity College having initially entered TCD via the Trinity Access Programme following her Leaving Cert.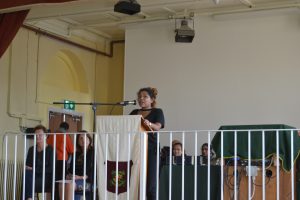 In her speech to the whole school, Dove spoke of her happy memories in Ms. Fitzsimons' English classes and how she learned the skills of debating, speech writing and public speaking.  She encouraged students to always do the best that they could, it's not always important to be "the best". She encouraged students to "Do as much learning and growing as you can".
Following Dove's speech, Ms. Colhoun echoed the sentiment of "Being the best that you can be" and of our school celebrating the "Many Kinds of Excellence" of every student as they reach their full potential.
Ms. Colhoun then proceeded to present the awards.  The Junior Certificate prizes were first with Trisha Fabila receiving the 3rd best results and Klea Golaj achieving the 2nd best. Tara Brilly and Neha Jacob achieved four A's, five B's and High Merits in their Junior Cert results and were duly awarded prizes for the best Junior Certificate results.
The Leaving Certificate prizes were awarded to Jade Wilson, Emma Lynch and Abies E'obasuyi.  Jade achieved 497 points and is now studying Arts in UCD.  Also in UCD, Emma achieved 500 points and she is now studying Chemistry and Chemical Sciences.
Abies achieved the highest points in her year group, massing 521 points in total.  She is now in Trinity College studying Engineering.