Sporting success was yet again achieved by the girls of Loreto College, Crumlin Road in the U-19 FAI Schools Leinster B Final on Wednesday May 10th.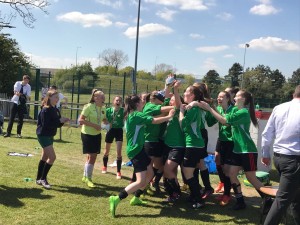 The team travelled with a busload o supporters out to the home of Leixlip United FC and came away with the cup following a 1-0 win over St. Raphaela's Secondary School, Stillorgan.
The team captained by Leah Byrne of 6th year qualified for the final following a 2-0 win over a strong St. Louis', Dundalk team in the last 8 and then overcame St. Killian's German School 3-2 in an exciting semi-final.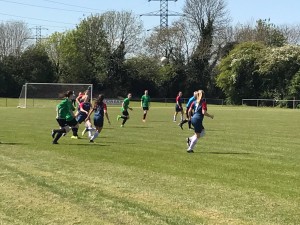 The final itself was a tight game with the decisive goal coming in the second half.  Beth Whyte (6th Yr) made a powerful run into her opponent's half.  The shot on goal that resulted was deflected to Rachel Maher (4th Yr) who kicked the ball past the St. Raphaela's keeper.
Much of the remainder of the game was spent keeping a clean sheet with Kerri Duffy (4th Yr) putting in a Player of the Match performance defending the Loreto goal.  The team even withstood what seemed like an eternal 12 minutes of injury time, but the referee's final whistle was met with scenes of delirium on the pitch, on the sidelines and back in the school when the team returned with the cup.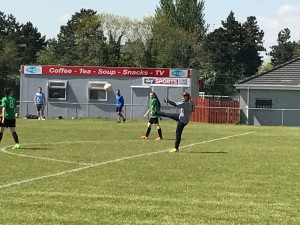 The joy was shared with the managerial team of Mr. Howard and Mr. Wall who after 14 years of hard work with soccer teams in Loreto came home with silverware in their 3rd final attempt.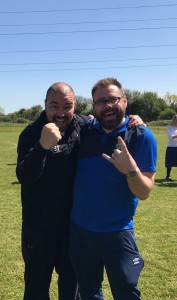 The winning team were
Starting XI
Ruth Ecumoire (4th yr), Roisin Hopkins (4th Yr),  Sarah Whyte (5th Yr),  Kayla Cooling (4th yr),  Rachel Maher (4th Yr), Abbie O'Hara (2nd Yr), Kadie Dunne (6th yr), Kerri Duffy (6th Yr), Leah Byrne (c) (6th Yr), Megan Reid Quinn (3rd Yr), Beth Whyte (6th Yr),  Katie Delaney (1st Yr),
Subs
Katie Whyte (6th Yr), for Leah Byrne (injury), Jade Howell (1st yr) for Kadie Dunne, Jennifer Moore (1st Yr) for Kayla Cooling, Chloe Maguire (6th yr) for Sarah Whyte,  Alannah Lennon (2nd Yr).