The new school year was officially marked by the annual mass in St. Bernadette's church on Tuesday, 26th September.
Students, teachers and some parents processed together up Sundrive Road to the parish church on Clogher Road where the school marked their celebration around the theme of the family.  Ms. Greham, the Religion Department and the Ember Team designed a beautiful ceremony that involved students from every year group in many aspects of the liturgy.  With the World Meeting of Families Meeting taking place in Ireland in 2018, the theme of "The Family" was chosen by the Ember Team as the focus of our mass.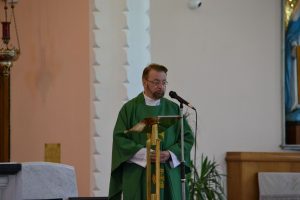 A very welcome guest at our ceremony this year was the new Parish Priest of St. Bernadette's Church and celebrant of our mass, Fr. Brian Lawless.  Fr. Lawless took over from Fr. Melvyn who had led many liturgical ceremonies in Loreto over many recent years.  School Principal Blathnaidh Colhoun welcomed Fr. Lawless to his new parish and spoke of continuing the warm relationship between the parish and our school.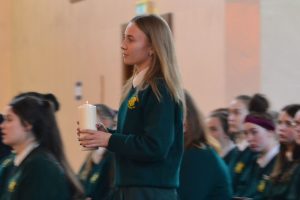 The mass itself began with a welcome by Head Girl Reanne Devlin.  Following the opening hymn, a ceremony of 5 candles to represent the five core values of Mary Ward, (Truth, Sincerity, Freedom, Justice and Joy) processed up the aisle.  Intermingled with the choice of beautiful readings was the lovely singing of the school choir which has enjoyed a large increase in numbers this year.  Instrumental performances also featured from the 3rd Year Music Class and Rebecca Ross on Cello.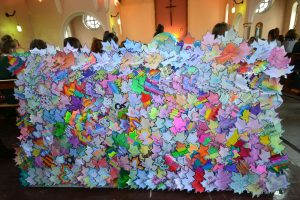 The final part of the ceremony was the presentation of the Prefect badges and the recitation of the prayer.