Two of our students, Ekenenna Chukwuewuzie and Ifunanya Chukwuewuzie of 2nd and 3rd yr respectively participated in the Lenister Final of the Matheson Law National Junior Mace Debates in Castleknock Community College on Saturday, March 10th, 2018.
Ekenenna and Ifunanya have been taking part in the preliminary rounds of the National Junior MACE competition since September. Their success in those preliminary rounds led them to the Lenister Finals.  There they competed among the top 80 speakers in the province.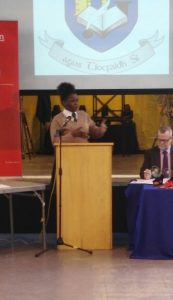 Ekenenna and Ifunanya had three rounds of debates in the finals with Ekenenna making it through to the Grand Final, which comprised of the top eight speakers out of the 80 competing.
Ekenenna came 5th in that Grand Final and has now qualified for the All-Ireland finals. It is a huge achievement for both girls to make it through to the Lenister Finals of this prestigious competition and we wish Ekenenna luck in the National Final. This is the first year that a student from Loreto Crumlin has been in this competition.