Loreto College Crumlin participated in the Loreto Schools Virtual Camino Challenge along with 12 other Loreto Schools across the country. A total of 2727 students, staff and parents got involved and walked a total of 104,960.4Km over the duration of the pilgrimage! This was an outstanding achievement which lifted everyone especially during a particularly difficult time when we needed the lifting the most!
In Loreto College Crumlin, students went on walks as part of P.E class, clocking in their kilometres as a class unit. While after school, Ms Dillion and Ms. Murphy led Camino club walks which encouraged students to get their kms up after school hours! We also had plenty of students making the decision to walk to school while others began running for the first time!
We pay special tribute to the students who went above and beyond during this challenge;
Sally-Anne Kavanagh in 3rd Year managed to clock a staggering 510.7Km for her 3rd Year Team, while Erin Hennessy – also in 3rd year- clocked a total of 260.7km! It is particularly interesting to note both girls came from the same team and led the 3rd Year Team fully.
3rd, 4th and 5th place were Zofia Radon – TY, Erika Lebedeva – 6th Year and Hanan Omar – 1st Year who walked 585Kms between them! Ms. Dillion topped the Staff leaderboard clocking in a brilliant 170.5km! Followed by Ms. Robinson, Mr. MacEoin and Ms. Kilcoyne.
Overall our Second Years crossed the finish line first coming 8th Nationally with Angelika Sliwowska walking the most for her team – a whopping 141.5Km.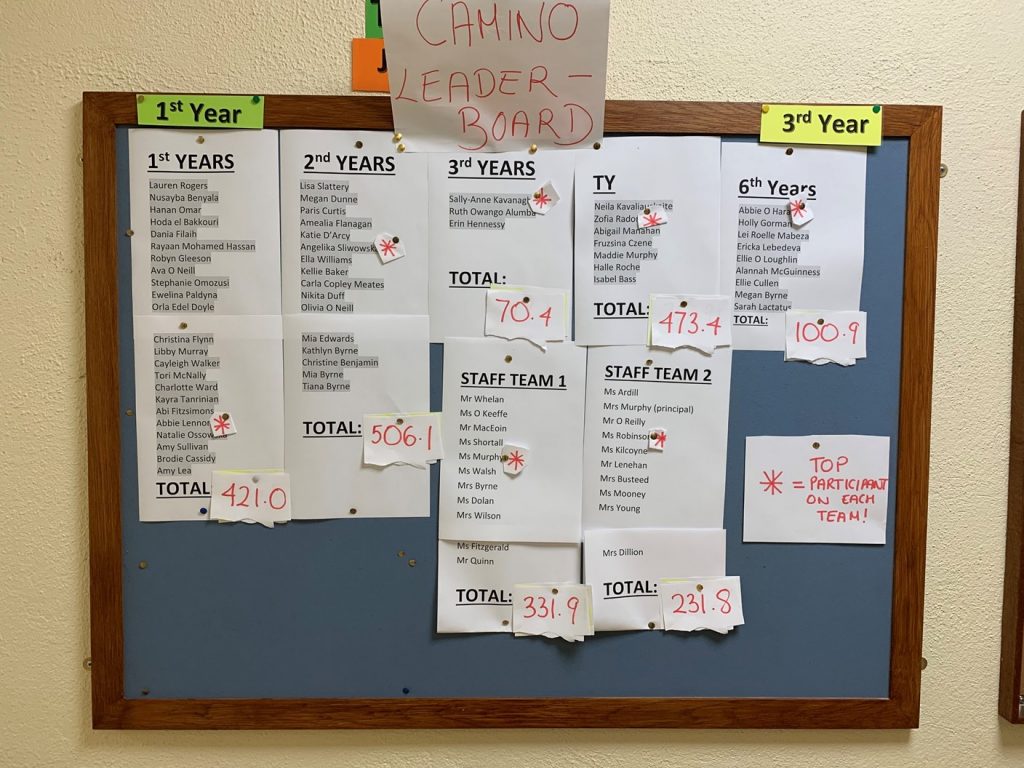 It is no doubt that this was a whole school effort to get out and get active, ensuring we kept our distance safely. Congratulations to all the participants on a very successful journey that allowed us to stay connected, be part of a team while staying fit and healthy.
I encourage everyone to keep up the walking and running to destress and stay active, encourage others and lead by example! Well done to all!