On Monday 14th and Tuesday 15th March, Loreto College Crumlin comemorated in a very special way, the events that took place 100 years ago in Dublin during Easter Week, 1916.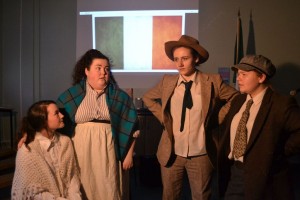 Each year group attended a special ceremony featuring eye witness testimonies, video and images from the turbulent week, a scene from 'The Plough and the Stars' by Sean O'Casey and beautifully sung ballads by the choir.  It all contributed to a very moving and engaging event.
Karen McCabe read the Proclamation of the Irish Republic in a style that undoubtedly must have rivaled Pearse's rendition, and it was stirringly translated into today's vernacular by Amy Moore.  Students were then given a brief history of our Green, White and Orange tricolour, for Comemoration Day.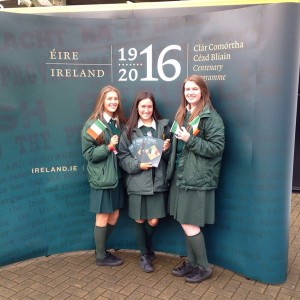 Our very own tricolour had been collected the previous week by 5th Year students Lauren Curran, Karen McCabe and Lauren Rochford the previous week at Croke Park where they were accompanied by their History teachers, Ms. Fitzsimons and Ms. Walsh.
On the day itself, Tuesday 15th March, the entire school community gathered at our flagpole for the hoisting of our national tricolour.  We proudly sang Amhrán na bhFiann as Megha Jacob hoisted one of the most beautiful symbols of our republic.