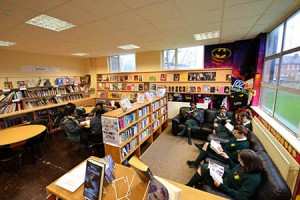 The school library is located in Room 40 and open during school hours. The main aim of the library is to encourage and foster a love of reading and books and to improve literacy levels amongst the students. A newsletter keeps everyone up to date with information on current activities, competition winners and new books available.
Reading for pleasure A wide range of books, including the current most popular books Students are encouraged to make their own suggestions for new books that we currently don't have. Our "cosy corner"-a lovely comfy area with couches-is very popular with students and creates a really relaxing atmosphere. Students may also buy their own books from the Setanta books catalogue, available to order from the library.
Research The library is an important resource for school projects with computer terminals with internet access. This year, The Parents Association very kindly donated funds for a new printer which offers high quality prints for project and art work.
Library Activities Various extra activities take place including Library Book Club, 1st year reading challenge and English Week activities. English Week takes place every October and the library hosts talks, author visits and lunchtime readings.
The Book Club The Book Club meet every month. They choose new books to review and report back on what the book is like, and if they would recommend it for the library and to others. The books with the best star rating are then purchased for the school library, so others can enjoy them. The 1st yr reading challenge is similar to the book club, but instead of choosing books, the students read and review the books which are short-listed for The CBI Irish Children's Book of the Year. They do this in tandem with a host of primary and post-primary schools around the country and every school then sends in their score, which goes towards choosing The Children's Choice Award. Competitions: As well as The Halloween Competition during English Week, A bookmark competition takes place around Easter every year to choose a bookmark design which will become the official school bookmark for the coming year. Last year's winning entry is now available to students and is proving really popular.
Book in a Bag Scheme is a literary initiative to improve literacy among all students. The students are expected to read during tutor time, if they have completed work in class or at the end of exams.
The library is a valuable resource for our school, so it's wonderful to see more and more students using it on a regular basis, for reading, research and study in a calm and quiet atmosphere.
Check out the latest Library Blog by clicking HERE