On Monday 20th November, Loreto Crumlin hosted the preliminary round of the Inter Loreto Junior Debating Competition. Ten Loreto schools from across the country came for the event. There were three rounds of debates, with the motions: "That this house would scrap homework", "That this house would ban advertising during children's television programmes" and "That this house believes Ireland is the best country in the world." All the girls spoke brilliantly and did their respective schools proud.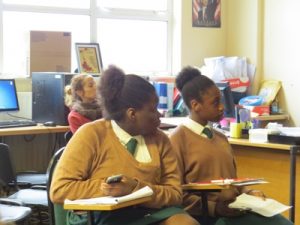 After the final round, only four teams qualified for the final, due to take place in March, and they were Crumlin, Bray, Foxrock and Beaufort. The Crumlin team that made it through were Ekenenna Chukwuewuzie and Becky Mbu, both in 2nd year. A huge congratulations and well done to both girls.
Furthermore, Ekenenna, came joint top of the tab as best speaker in the competition, along with Loreto Beaufort.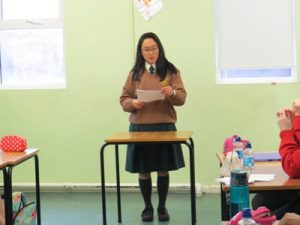 A huge well done as well to our other two debaters – Freya Ragas and Aaishah Benyala, who both spoke so eloquently.
The day would not have been such a huge success, if it were not for our dedicated chairs and timekeepers, who all did a fantastic job. From first year: Abbie Monahan and Caitlyn Delaney; and from second year: Ciara Lyons, Amina Chegrani, Kathy Liu, Daniella Omoigui, Kieffer Cortez, Ifunanya Chukwuewzie, Aisha Yassin, and Salwa Aboudinor.
The day was a huge success all around, with a great buzz and atmosphere gathered around Marian House during the competition. Every single girl left the building at the end of the day with a smile on her face. All we can say now is, bring on the next round!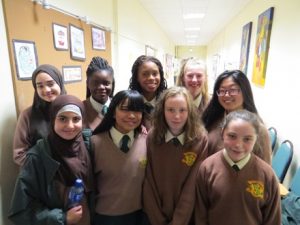 Article and photography by Ms. R. Murphy