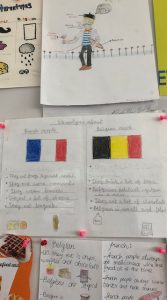 Thursday, 26th September was European Day of Languages. Ms. Dolan and the French department made a big effort to get us all listening to and reading languages from all across our continent and the wider world.
There were morning greetings over the intercom in Albanian and Estonian. 2nd Year Music students sang songs in French and Spanish. At 12.30 classes tackled a European themed quiz on countries, flags, symbols and languages.
At lunchtime, the menu in the dining hall was displayed not only in English, but in French, Polish and Romanian too.
It was great to hear and see so many languages that are spoken by so many of our students and staff all around the school.