There were a number of trips in our opening term to help bond some of our new groups together and help build teamwork.  Details of them are listed below.
5th Year LCA class.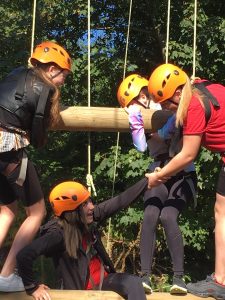 On Thursday, 19th September, our new Leaving Cert Applied (LCA) class went on a team building outing to Ovoca House in Co. Wicklow.  They had a fun filled day of team building activities and ice breakers.
As they went with their coordinator Ms. Byrne, Ms. Doyle and Ms. Taylor the day focussed on getting the girls to face their fears and make them realise their self worth.
From climbing a pole and leaping into the unknown, to a blindfolded walk from the forest led by Sagal Adan, the girls learned to trust each other and build on the bonds they have been nururing together over the last three weeks.  It is terrific to have the Leaving Cert Applied Programme back in Loreto College, and our newest class have got off to a brilliant start.
Ember Team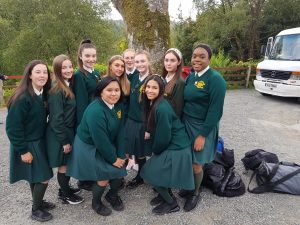 The Ember Team went on their training programme for three days also to Ovoca Manor on Monday 9th September.  The team of 5th years (Kitti Gemes, Holly Gorman, Alannah Grogan, Megan King, Chardonnay Maguire, Kayla McDonnell, Princess Omozusi, Abbie O'Hara, Emily O'Neill and Chloe Pingol) lead faith development activities in our school. They, along with over 70 students from seven other schools combined team building exercises with faith based activities to better prepare them for the year ahead.  Along with evening liturgies which channelled the girls' spiritual side, there was rock climbing, a leap of faith into the air and they all had to work together to get across the tricky Jacob's Ladder.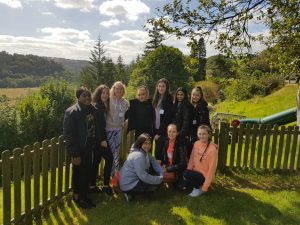 There were also drama activities in which they had to create their own short plays from only an opening line, closing line, a prop and a bizarre word.  The girls spent valuable time in sessions planning the year with chaplain Ms. Killeen and the event was capped off with a campfire for all on the last night…where Wonderwall was sung over and over (and over) again.  It really pushed the girls beyond their comfort zones, but brought the group together with a strong spiritual vision.
Later in the term on Tuesday, October 15th.  The Ember team went on a retreat in the Solas centre in Tallaght.  There were students from many south Dublin schools there.  Three speakers who spoke to them who were all very inspirational and talked about how they overcame adversity in their lives. After each speaker the girls played a round of guessing songs. Although we they missed the first round, they ended up getting 3rd place. Overall, the day was very enjoyable.
Transition Year
(written by Caithlin Griffin, Daniela Omoigui, Ciara Lyons and Katie Dawson)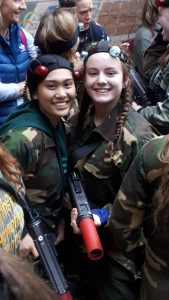 On Thursday 18th of September the transition year students arrived at the school at 7:50am to leave for Carlingford, Co. Louth.  The bus joffurney was full of excitement we arrived at Carlingford Adventure Centre at 10:00, we dropped off our bags, then headed straight to our first activity; kayaking. We kayaked out to the raft in pairs and we then did different activities, such as jumping off a trampoline into the water. We headed back to the main house where we got lunch. In the afternoon we did laser tag which we played in the forest.  We were split up into two teams and played different games. We made our way back to the house afterwards for dinner.
After dinner we finally got situated into our rooms some people were split into a little B&B in the town centre. Our last activity of the day was the campfire where we sang songs got told stories and ate smores.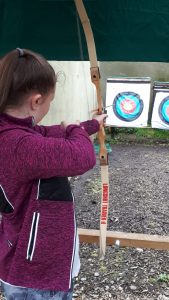 On Friday we had mixed activities before we headed home.  They included  Aeroball, Archery and a 3-D maze. We then got our lunch and headed home. We all really enjoyed the trip and we were sad to come home.