On Wednesday, 23rd October the first year class of 1 Nightingale took part in the Inter-Loreto Hockey Blitz. Many of the girls had never played hockey before and were taught rules on the bus. But that did not phaze them in the slightest.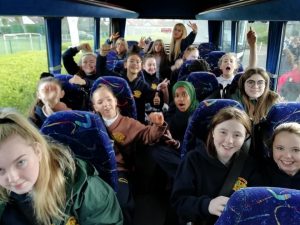 When they arrived, they were ready, excited and eager to play. The games were tight, with our fledgling team only losing by a narrow margin against very experienced teams from the other schools (and even scoring a goal in the process!).
The last game was against Loreto Dalkey and the girls played their socks off, drawing that game 0-0. It was a brilliant match and the girls rose to the occasion magnificently. There were huge cheers from the Crumlin crowd. The point won against Dalkey meant we came 3rd in the league.
It was a great experience for the girls, who celebrated their deserved success with a pizza when they got back to school. A huge thank you to Ms Doyle for all her hard work.