4th, 5th and 6th year students had the opportunity to speak to a range of third level colleges as part of our annual College Fair, organised by Ms. Horgan and Ms. Clifford on October 17th..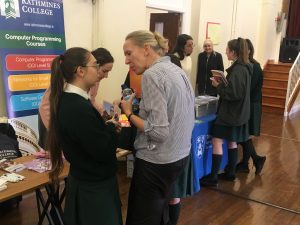 Representatives from IT Blanchardstown, Trinity College Dublin, NUI Maynooth, Griffith College, TU Tallaght, Crumlin College, NCAD, DIT, DCU, UCD, Marino College, Rathmines College, St Kevin's College and Pearse College dotted our concert hall with stands, prospectuses, and flyers and were on hand to give helpful advice to our senior students on their future career paths.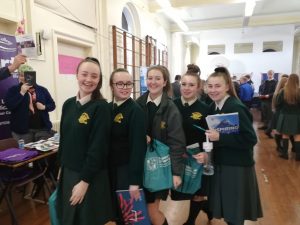 In a welcome change to previous college fairs, it was our pleasure to have the 6th year boys from Drimnagh Castle in to attend the College Fair with us.  Drimnagh Castle are new to the Trinity Access 21 programme and the event on Thursday provided a great opportunity for our two schools to share in a very worthwhile event.