College Awareness Week in Loreto College Crumlin ran from Monday 21st to Fri 25th November.2016.  As part of nationwide activities, our school ran a range of initiatives among all our year groups to promote the benefits of going to college.  One of the main aims of the week was to support students to become 'college ready'.
We were delighted to welcome guest speakers form a range of industries and professions to speak to our students and give them a picture into how they got to where they are today including Marketing expert Ashleigh Horgan, Personal Trainer Jarlath Hynes, Engineer Seana McGowan and RTE journalist Brian O'Donovan, among others.
It was enormously rewarding for us to welcome some past pupils back as well so that they could give great insights into how their career developed once they graduated from Loreto.  Newstalk's brand manager Catherine O'Toole, Primary School Teacher Letetia Enright and Dental Nurse Niamh Kinsella were just a few of the inspiring women who came into speak to students and give them just a sneaky peek into what roads their future careers could traverse.
Everybody got something out of the week.  First and third years looked at College Prospectuses and made their own Student ID cards while fifth years benefited greatly from information sessions on TAP (Trinity Access Programme) about HEAR, DARE and foundation courses. Past Pupils and current third level students Noella Kisuka and Oladiti Eniola led the way in this session, talking to our girls and telling them about their experience in getting in and their experience of college thus far.
Further to this, we welcomed many third level institutions in for a College Fair on the afternoon of November 22nd which allowed senior students to talk with admissions officers from third level colleges, universities and the Defence Forces to get information on their potential field of study.
For further details please contact:
Debbie Horgan at dhorgan@loretocrumlin.ie
Follow
www.facebook.com/collegeaware
www.twitter.com/collegeaware @CollegeAware
www.instagram.com/collegeaware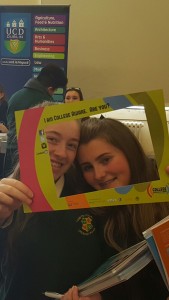 .