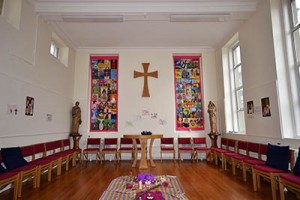 The pastoral care of every student is at the very core of our philosophy. We recognise each girl as a unique and valued person with different talents and needs. While all teachers are involved in pastoral care on a daily basis, we assign each class to the special care of a Class Tutor.
The Year Head monitors the discipline of each year group as well as their academic and social progress.
The Guidance Counsellor whose comprehensive advice extends throughout the whole school, meets with each student individually during her senior cycle.
The Learning Support Team assesses pupils with in need of extra support and gives tuition to students on an individual or small group basis.
The Chaplain acts as a spiritual guide who accompanies each student on their journey through life. As a member of the pastoral care team the Chaplain works closely with the Principal , Vice Principal, Guidance Counseller, and Year Heads to ensure a comprehensive and thorough system of care for each individual student. The Chaplain acts as a link between the school and the wider parish and community. Counselling: If you have concerns about your child's mood, behaviour or general well being you can contact the school and ask to speak to the Chaplain to express your concerns. The Chaplain will talk to your child and may refer you on to a suitable agency if this is required. Some counselling is available in the school and the rainbows programme runs for students who have been affected by a bereavement or separation. Support in times of crisis: Difficulties invariably arise in the lives of students. If the school is aware of difficulties a student might be facing they can offer them the appropriate support. It is very important that the chaplain is informed if a student is in hospital or if they have been bereaved. Contact Liam O'Reilly(Chaplain).
The Care Team meets on a weekly basis to set up supports for students who are experiencing difficulties and aims to ensure, in a confidential and sensitive manner, that each student is nurtured during her time with us.
English language support is offered to students whose first language is neither English or Irish and who are assessed as requiring additional help with English. This support enables students to access the Junior & Leaving certificate programmes and integrate more fully into the school community.
The Rainbows Programme supports students bereaved through death or separation.
The Home/School/Community Liaison Scheme offers support to parents and guardians through courses in the Parents' Centre and other initiatives.