Ms. Greham and the Ember team made a special point of devoting the month of November to remembering those dear to us who have died.
Every morning's prayer focused on paying respect to relatives and friends whom we miss.  On Wednesday, 29th November, the Ember team and Ms. Greham led a beautiful ceremony in the hall to which everyone was invited.  The choir sang on a stage decorated beautifully with candles.  Readings and prayers brought us into a sacred space of remembrance.  Aisha Yassin sang a beautiful Islamic prayer and Erin Kiernan sang Supermarket Flowers by Ed Sheeran.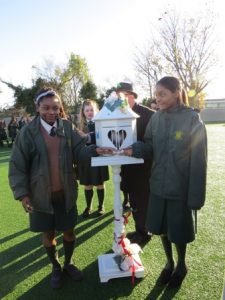 The event ended poignantly with the release of two white doves surrounded by the whole school community.