It was a day for celebration as our Junior Cert class of 2016 received their State Examinations results on 14th September, bringing to an end an almost three month long wait.
The tension was up to its highest in the Dining Hall as Ms. Colhoun and Ms. Murphy distributed the sealed envelopes containing the much awaited marks.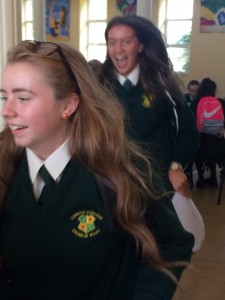 Within seconds of Ms Colhoun's statement; "You may open your envelopes", screams and cries filled the air.  Students celebrated with and consoled each other in a moment that they will all never forget.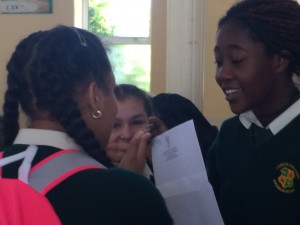 The beautiful sun shone especially brightly on all the students who deserve to be proud of their great achievement.  Two students especially worthy of praise are Martina Ibrahim and Maryam Salem, both of whom scored four A grades on Higher Level papers.
This year group were selected as our first CFES (College for Every Student) Scholars last year and this milestone in their education helps them along the path to a future college course.
Well done girls.