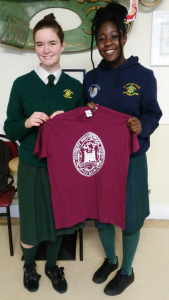 There were great celebrations in Trinity College on Saturday 20th January as Ciara Reynolds and Ruth, Komolafe of 5th year won The Philspeaks debating competition.
The competition is open to senior students in secondary schools across Ireland. It gives students the opportunity to debate and articulate a variety of ideas and experience a little of what further study in colleges such as Trinity has to offer.
Both Ruth and Ciara have gained considerable experience this year under the tuition and guidance of their debating coach Ms Murphy and their triumph in Philspeaks represents their most notable success this year.